The top priority of any competent construction management team is the safety of its employees. With that safety, comes the responsibility to train and prepare for a variety of different situations that may compromise your team.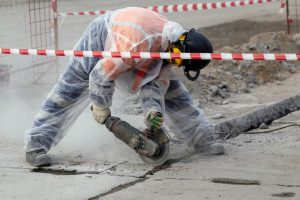 Not the least of your worries is Crystalline Silica exposure as a result of construction dust. It can be extremely dangerous when inhaled, and your plan to minimize the danger isn't just a legal requirement - it's also a good business decision. 
Here are three ways Gadzoom can help you get started:
Dynamic Templates
No more wasting hundreds of hours on a single document. Our massive library of templates gives you the freedom to customize your very own plan that meets the unique needs of your jobsite. Reduce risk and unnecessary injuries by identifying hazardous source materials and related construction activities for your project. Gadzoom takes out the guesswork, so you can focus on implementation.
Comprehensive Documents
There's a lot that goes into exposure control plans. These documents can be difficult to navigate and must be properly prepared in order to truly protect your employees. Don't risk something falling through the cracks and delaying the project. Gadzoom's planning tools break down the different exposure prevention protocols and provide you with the information you need to make decisions that best suit your team's interests.
Government Compliant
Our platform can generate effective exposure control plans that are proven to meet OSHA's "Respirable Crystalline Silica Standard." These heavily regulated documents need to be airtight before getting approved by government regulators. Gadzoom helps you understand and manage the risk of Crystalline Silica Exposure to keep your employees safe and your company in compliance.

Gadzoom was built by construction professionals who wanted to eliminate the redundancy associated with construction admin and safety documentation while enhancing flexibility to greater enable customization for each project. They've now made this powerful platform available to you. Learn how thousands of construction professionals are fulfilling project documentation requirements much easier and faster than ever before. If you're interested in learning more, visit our site today.

---
About Gadzoom
Gadzoom enables you to generate important documents in minutes, giving you the freedom to run and manage your business without all the headaches that come with administrative responsibilities. Our company was born to make construction document management as streamlined as possible. Create a variety of government compliant safety and administrative documents at the touch of a button. If you're interested in learning more, visit our site today.