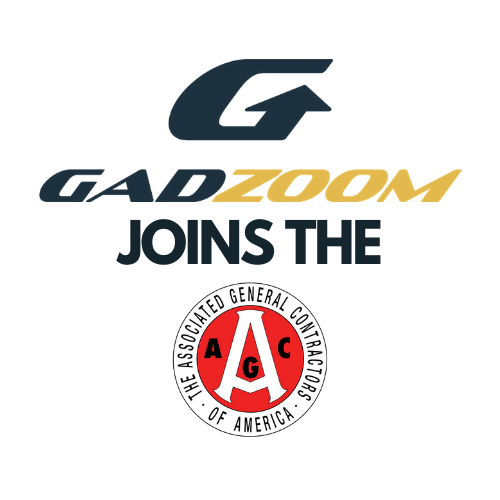 Gadzoom is committed to retaining its status as the industry leader in construction document management, providing the most efficient way for companies to manage administrative requirements for projects. With that, comes the responsibility to our industry to manage and act on behalf of its best interests.
That's why we're extremely proud to announce that Gadzoom has joined the Associated General Contractors and, through this affiliation, we'll have our finger on the pulse of the construction industry like never before.
Here's a little more about what our membership means:
A Leader in Construction
The AGC is more than just a group - It's the personification of everything that's important in construction. From shaping public policy to providing its members with up to date information on the latest news to come out, being a part of the AGC is to be a part of construction leadership.
Gadzoom is excited to join more than 26,000 firms, including over 6,500 of America's leading general contractors, and over 9,000 specialty-contracting businesses that make up the AGC. We know that through association with the AGC, Gadzoom will be able to remain at the forefront of the industry and remain a positive influence for its growth.
Related article: What Business Are We Really In? Risk Management!
Nationally Accredited Educational Programs
Gadzoom's membership in the AGC not only provides the opportunity to lead, but the opportunity for our safety teams to participate in nationally accredited educational programs and training, allowing us to better understand the safety requirements our clients face. Taught by some of the top instructors around, AGC's educational programs are helping its graduates set the pace of today's construction industry.
From new and innovative ways to problem-solve to exclusive industry-specific publications and resources, Gadzoom's membership in the Associated General Contractors means that we are aware of the latest safety requirements in the industry.
Boots on the Ground
Arguably the most important benefit of being an AGC member is the opportunity to network with some of the industry's best and brightest, hearing what they have to say about improving safety and document management while devising plans to help them achieve their visions. Because at the end of the day, if we can make life easier for AGC members, that same innovation is likely to be of use to the rest of our client network, as well. 
Gadzoom looks forward to, connecting with AGC members and building relationships with fellow professionals, owners, and suppliers across the country and from every construction discipline, in order to better meet the needs of Construction Managers everywhere. 
Related article: How To Find The Right Construction Technology Partner
Get Your Documents & AHAs Online Using Gadzoom
---
About Gadzoom
Gadzoom enables you to generate important documents in minutes, giving you the freedom to run and manage your business without all the headaches that come with administrative responsibilities. Our company was born to make construction document management as streamlined as possible. Create a variety of government compliant safety and administrative documents at the touch of a button. If you're interested in learning more, visit our site today.